Quality Highway Grinding and Grooving
Quality highways, bridges, and airports play an important role in connecting people as well as improving the economy. This is why Southeast Grinding and Grooving, LLC, is here to help you make sure your pavements will serve their purpose for years to come. We offer solutions to road roughness as well as surface traction problems. If you are looking for an experienced professional solution, you can turn to us to deliver the right service that meets your needs.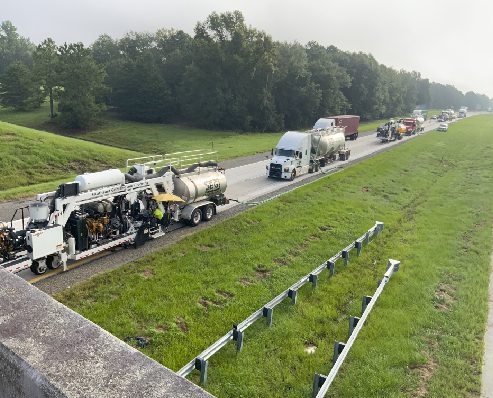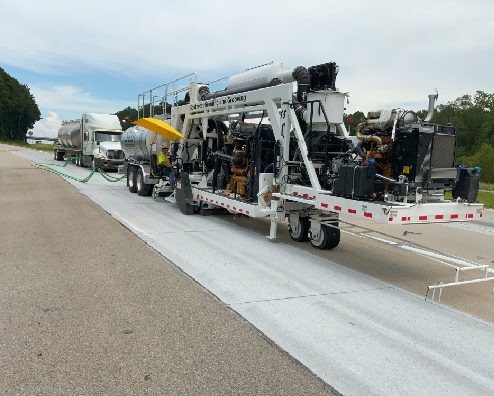 Corrective or Bump Grinding
The Department of Transportation (DOT) has accepted and approved this method to improve ride quality and meet stringent profile specifications. The application is available for both concrete and asphalt pavement used in the construction of roadways, airports, and bridges.
Aside from that, it is commonly performed on isolated portions of pavement or continuous methods, depending on job requirements. The corrective or bump grinding practice is used to avoid possible ride quality penalties, and in some cases, contractors may achieve ride quality bonuses.
Diamond Grinding Concrete Pavement Restoration (CPR)
This continuous grinding method extends the existing pavement life by restoring ride quality. The process removes all joint curling, slab faulting, and rutting and leaves a new skid-resistant surface. It is also performed with other CPR techniques, such as slab repair, dowel bar retrofit, and joint resealing. The method has been the most commonly used method for extending and improving pavement life and safety.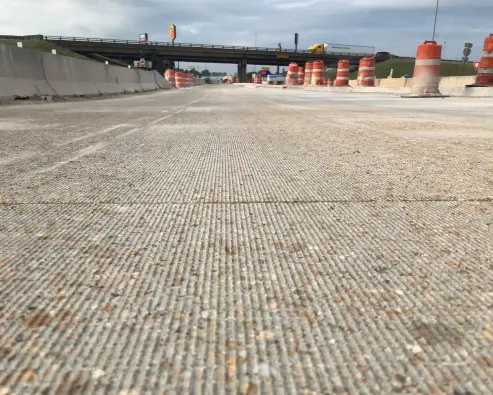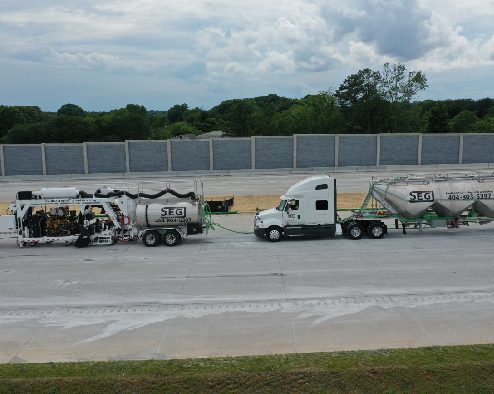 Diamond Grinding New Pavement
This grinding method is used to improve the ride quality and meet strict conditions. It also adds a corduroy skid-resistant texture, which is a proven process for extending pavement life with major safety benefits.
Transverse Bridge Deck Grooving
Grooving is an alternative to tining. Transverse safety bridge deck grooving forms several drainage channels that help dissipate water rapidly. Some states have adopted this practice to reduce hydroplaning, freezing, and wheel spray by increasing traction. The grooving patterns and other specifications may differ from state to state. In addition, the random patterns created are commonly used to reduce  tire  noise.
Runway and Taxiway Grooving
This has the same general safety principles as transverse bridge deck grooving. The Federal Aviation Administration (FAA) has adopted this process. Grooving patterns are typically .250 wide x .250 deep on 1.5-inch center spacing.
Longitudinal Pavement Grooving
The same general safety principles are still applied in this method, but the grooving pattern is cut longitudinally. This is often performed on larger quantities of highway pavement when surfaces are worn. It's more productive and is a cost-reducing approach. Diamond grinding is the best alternative.
Other Grooving Applications
Some of the grooving methods we provide can be applied to parking decks and parking lots. Grooving is also a standard process applied to livestock and agricultural roads to increase traction.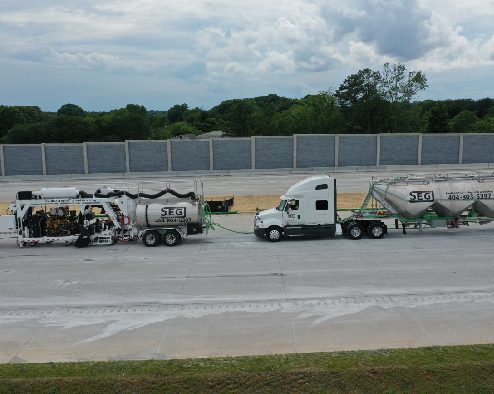 This type of grinding can be applied to drag strips, ovals, and road courses. It involves a highly specialized service that can drastically improve safety and surface smoothness. Racetrack grinding exceeds ride quality provisions for any surfaces required by the Department of Transportation. Our personnel has improved privately owned, national, and international tracks operated by the National Hot Rod Association (NHRA) and the International Hot Rod Association (IHRA).
We use specialized diamond grinding heads developed just for racing surfaces to ensure optimum texture. Surface texture is then enhanced by polishing to perfection for adhesive compounds and track preferences. We understand that your track demands excellence, which is why we also provide references upon request.
Utilizing our high-speed inertial profilers, we are able to produce profile traces that show the actual shape of the pavement surface. This can then be analyzed to determine ride quality. Using established specifications for each project, we are able to measure the ride quality results, produce pay adjustment schedules, and identify localized roughness.